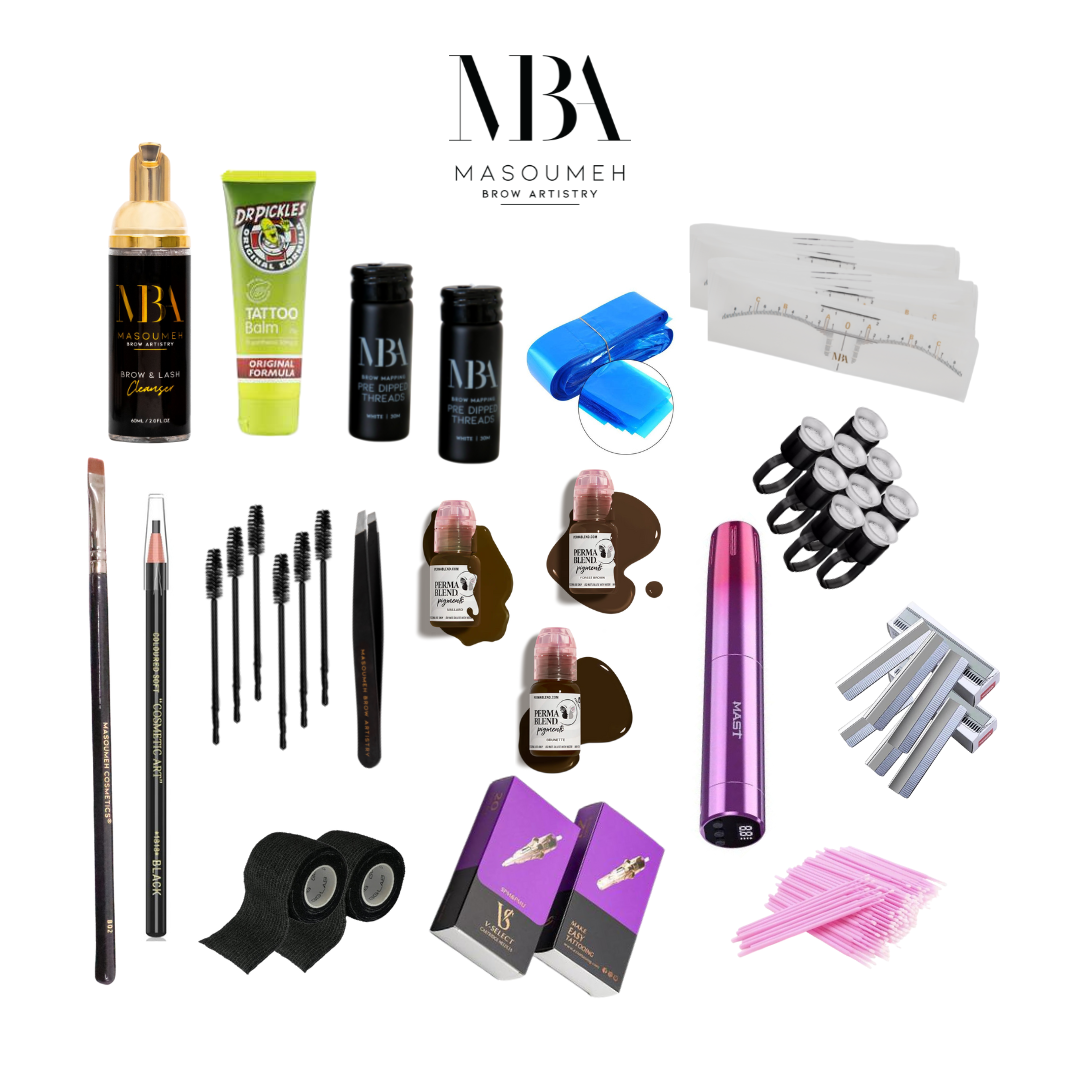 PROFESSIONAL KIT - COSMETIC BROW TATTOO
*This complete kit has been designed for Professional use of cosmetic tattoo technicians, students enrolled in a cosmetic tattoo course or beginning their service journey. 
*If you would like to learn how to perform a cosmetic tattoo professionally please register to my Ombre Brow Online Course. This complete kit is valued at $800. 
Services: 40+
 Treatments
Calculate income: Average price of Cosmetic Brow Tattoo is Between $600 -$1000
40 treatments x $600 = $24000.00
1x Dragon Hawk Y22 Wireless Tattoo Machine

 

1x MBA Brow Mapping Thread - White
1x MBA Brow Mapping Thread - Brown
1x MBA Concealer & Pre Draw Brush
1x MBA Pro Brow Tweezer
1x Box - 3RL Needle Cartridges

 

1x Box - 1RL Needle Cartridges

 

1x Cosmetic Tattoo Aftercare Tube
1x Darkest Brown Pigment
1x Espresso Pigment
1x Forest Brown Pigment
1x Double Sided Practice Skin
1x Practice Dotted skin
1x MBA Sticker Ruler 50 Pack
1x MBA Gentle Foam Cleanser
1x MBA Pigment Ring Pack
MBA Mini Ink Cups - 15 Pcs
2x Black Grip Tapes
1x Box Cord Sleeve for Tattoo Machine
1x MBA Mascara Brush 50 Pack
1x MBA Micro Fibre Brush 100 Pack
1x Pre Draw Pencil

 

2x Brow Razor Packs
+ ADDITIONAL FREE Disposable Essentials
KIT VALUED OVER $1200.00