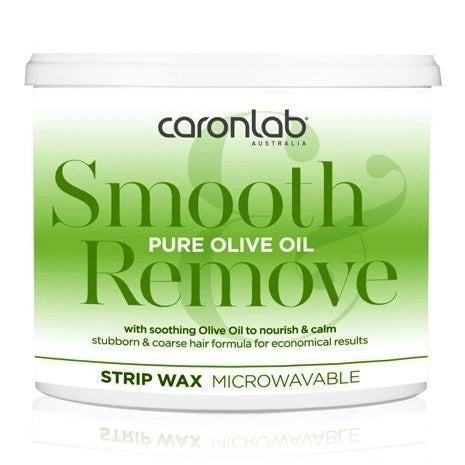 CARONLAB - PURE OLIVE STRIP WAX - 400 GM
Please note: This product is designed to be used in a professional wax heater by professionals only

Choose Smooth and Remove Olive Oil if you're after a natural formulation and you're an experienced waxer. (Microwave to pot technology)
Natural formula to nourish & calm the skin. With soothing Olive Oil.
        Dries quickly

        Great for speed waxing

        Economical with excellent results

        For stubborn & coarse hair

        Quick & easy glide

        Great for clients that previously shaved
Heating Instructions:
To melt/soften the wax either
Remove the lid and insert jar directly into the  an appropriate professional wax heater on a medium setting.
Remove lid from jar and place off centre in microwave for a minimum of 2 minutes, but no longer than 4 minutes depending on the wattage of your microwave and the amount of wax remaining in the jar.
Once wax has softened, place jar directly into a wax heater. Regulate heater to a medium setting of approximately between dial 3-4 on a Caronlab Professional Wax Heater. 65°C-75°C (149°F-167°F)
Usage Instructions:
Area to be treated must be clean, dry and free from any oils and creams. Use Pre Wax Skin Cleanser. Always test wax on the inside of your wrist before use. Do not apply on warts, moles and broken or irritated skin.
Apply wax thinly in the same direction as hair growth.
Place strip over the wax and press firmly.
Hold skin taut with one hand and pull strip off in the opposite direction.
For the perfect finish and to remove any wax residue on the skin, we recommend you use Caronlab After Wax Skin Cleanser or After Wax Soothing Lotion. To clean equipment use Caronlab Wax Remover Citrus Clean. 
*Don't try this with other brands' pots, they will melt in the wax heater.
Cruelty Free    Gluten Free     Peanut Free     Australian Made