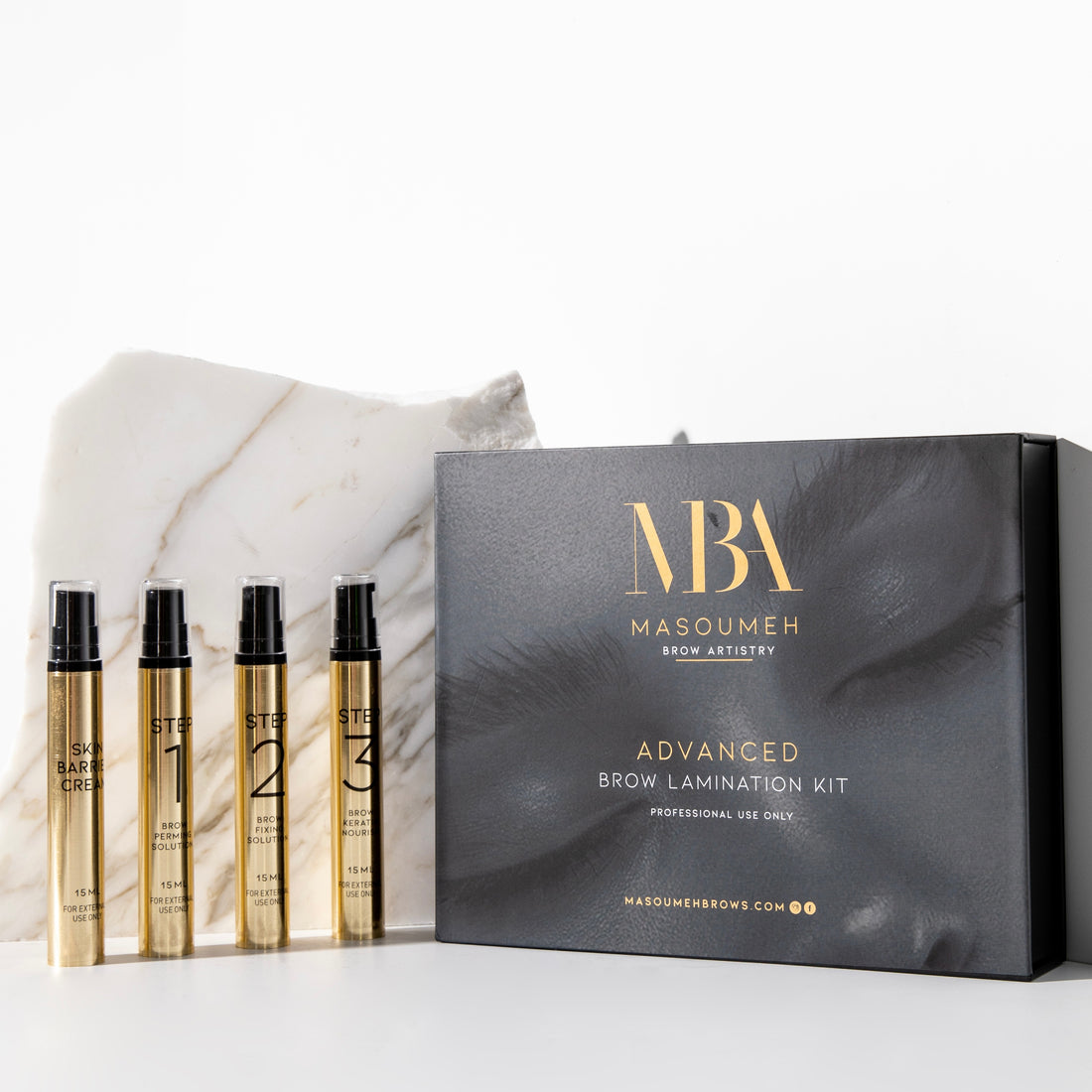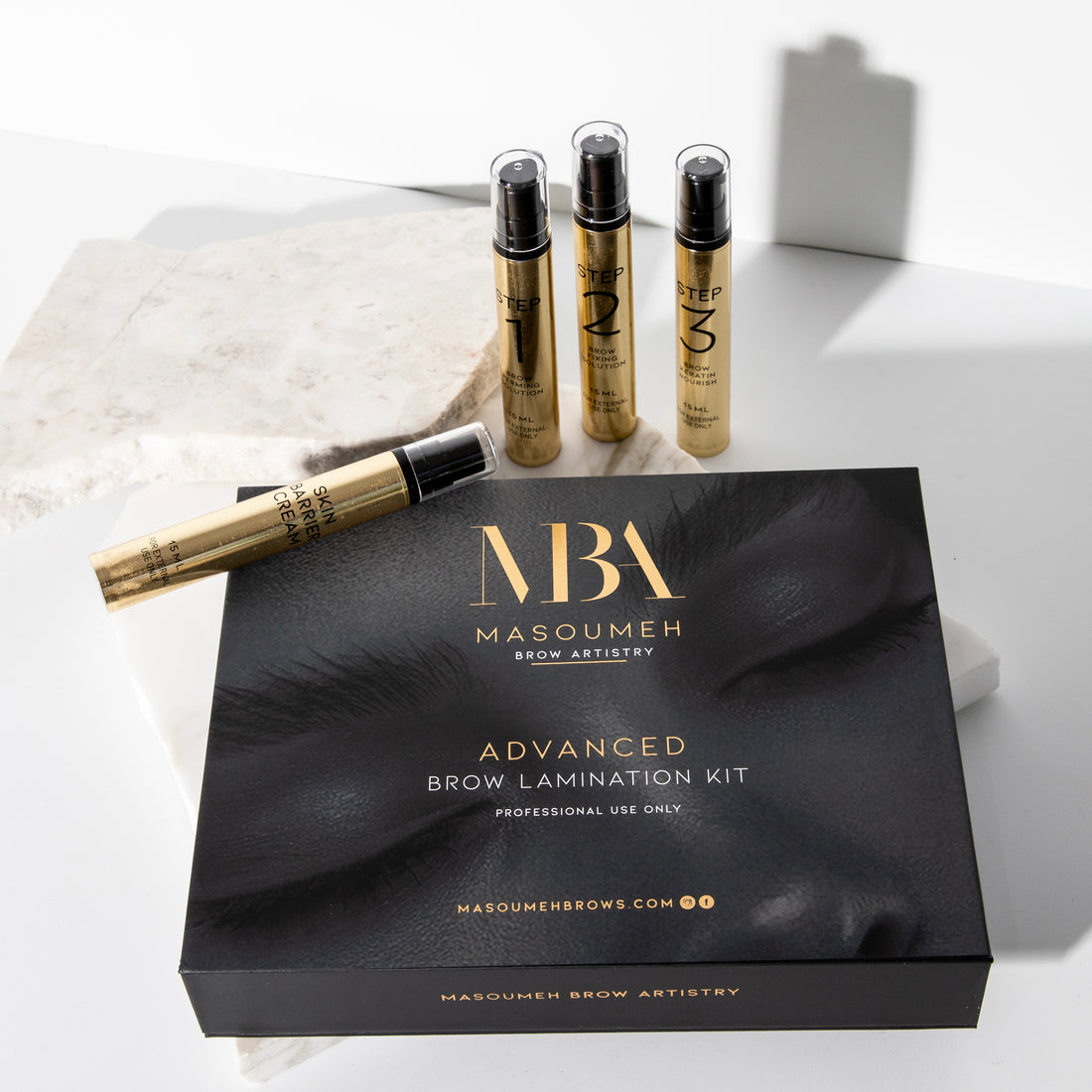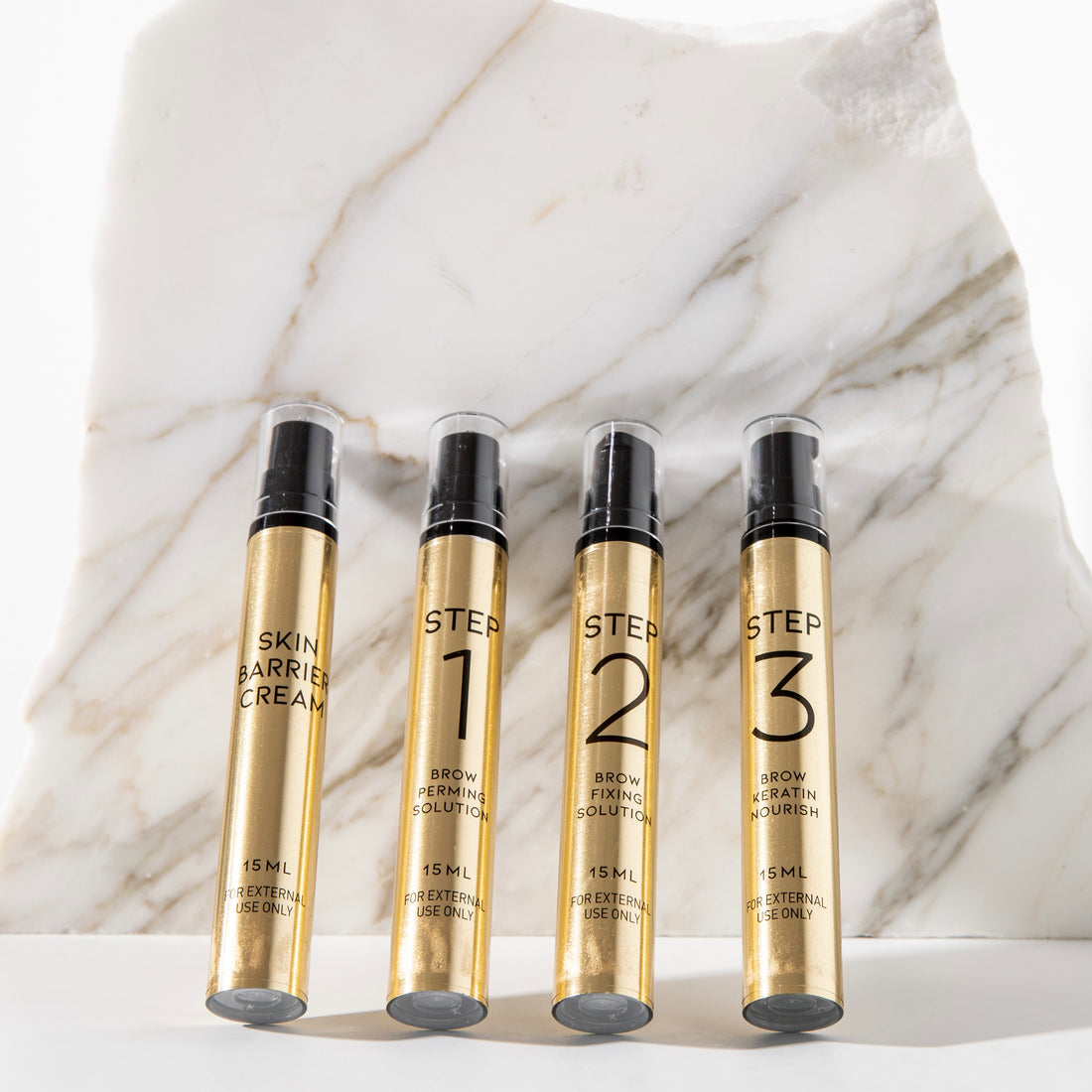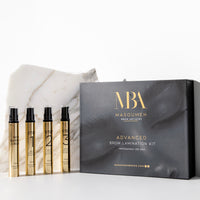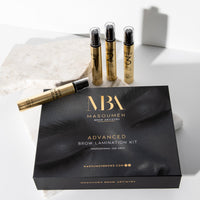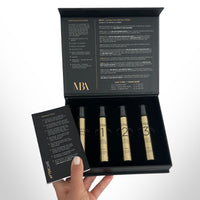 ADVANCED BROW LAMINATION KIT
A luxurious brow lamination kit created by Masoumeh Rabii to give Brow'fessionals the confidence to transform brows using high-quality VEGAN-FRIENDLY products.
Think font page VOGUE Brows! Slightly different to a brow perm, the MBA Professional Brow Lamination Kit involves straightening the brow hairs using 3 gentle solutions, giving results very similar to the full and feathery effect of microblading but without any pain.
'Brow Lam' also known as Brow Lift is a very unique treatment and unlike any other service on the market in the brow industry! Team it up with a brow reshape and tint and the results and the results are truly insane! One of the most sought-after services that hit the brow industry by storm in 2019 and you won't want to hesitate to add to your brow service menu!
WHAT'S INCLUDED IN THE KIT?
Skin Barrier Cream is used to protect the skin around the eyebrow and ensure no irritation occurs if a brow reshape has been performed.
STEP 1 BROW PERMING SOLUTION / 15ML
When the Brow Perming Solution is applied, the chemical process breaks down the bonds within each hair, this allows them to morph and move into the new shape. 
STEP 2 BROW FIXING SOLUTION / 15ML
When the Brow Fixing Solution is applied, the hair bond remodels into the new shape. 
STEP 3 BROW KERATIN NOURISH 15ML
The Brow Keratin is applied at the end of the treatment to restore moisture back into the brows and skin. 
20 aftercare cards for you to provide to your client to ensure the longevity of service and post-service care. 
CONTRAINDICATIONS & INSTRUCTIONS
To ensure you provide a safe service this kit includes complete instructions and contraindications to the Brow Lamination service. 
(Services 18+ clients)
 
MBA SHOP PRODUCT ADD-ONS FOR THIS KIT:
MBA BROW WRAP
MBA BROW & LASH GROWTH SERUM
MBA BROW & LASH FOAM CLEANSER 
WHO IS BROW LAMINATION GOOD FOR?
Absolutely everyone! A 30-minute service that gives untamed brows fullness and conceals gaps giving the effect of a fluffier Brows because over tweezers 90s are thing of the past! Any add-on service such as a reshape or tint requires extra time.
HOW LONG DOES IT LAST!
Following proper aftercare which is provided to professionals in the kit and maintenance advise your brow lamination should last up to 6-8 weeks. You will require styling your brows each morning by brushing and setting in them in place. You will also need to apply the MBA Brow & Lash Growth Serum daily to restore the brow hair. Nourish them and encourage hydration. 
DO YOU PROVIDE TRAINING?
YES!! For Australian residents we currently only have in-house training, however, we will have online training available for The MBA Brow Lamination Technique soon so stay tuned to our social media for all of our updates. MBA Online Education portal is A fun and easy, user-friendly portal for all of our students all around the world.
The MBA Professional Brow Lamination Kit is for 'Professional' use only. MBA recommends a 6-week interval between each treatment.